Dr. Mande's Ayurvedic & Physiotherapy Clinic offers the best Neurological Physiotherapy in Vashi, Navi Mumbai. Dr Mande's Ayurvedic & Physiotherapy Clinic is the brainchild of Dr. Kalpesh Mande, an ayurvedic practitioner, and his wife, Dr. Nitisha Mande, a physiotherapist in Vashi. They have a total experience of 15+ years treating patients with orthopedic disorders, neurological conditions, especially the spine. Both of them focus on total rehabilitation and recovery of the patient through their expert treatment. As far as possible, their patients should undergo recovery and regain their mobility and health without undergoing surgery.
Dr Nitisha Mande has been practicing physiotherapy for almost eight years. She has gained expertise in treating patients with cardiac issues, neurological problems, orthopedic issues, and children with mobility problems. She has given post-operative physiotherapy for many patients.
Now let's have an overview of Neurological Physiotherapy and how it's beneficial for treating neurological conditions without surgery.
What is Neurological Physiotherapy?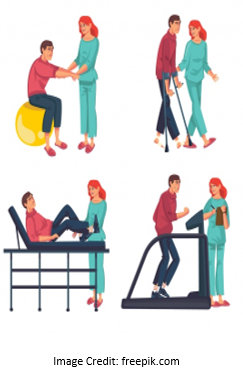 Neurological physiotherapy treats people with neurological problems. These are movement and functional conditions caused by impairments influencing the brain, spinal cord and nervous system.
Impairment in your central nervous system, including the brain and spinal cord, shows that the brain's signals are not transferring to the affected body parts. It can cause loss of mobility and sensation, non-coordination in movement, weak and floppy muscles, seizure and tremor.
Neuro physiotherapy can instantly start the signalling pathway that your brain is striving to use. It will provide a new way through uniform exercises and activities.
Conditions Treated by Neurological Physiotherapy
Neurological physiotherapy can help treat neurological conditions that undermine movement and physical ability. Our well- trained and expert physiotherapist in Vashi provides neurological physiotherapy for a variety of neurological disorders, including:
Traumatic brain or head injury
Stroke
Spinal cord injury
Balance and Mobility Issues
Difficulty in Walking
Multiple sclerosis
Parkinson's disease
Bell's palsy
Ataxia
Neurological Physiotherapy Treatment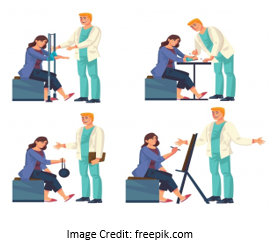 At the first visit, our physiotherapist will monitor and develop individual goals. They know that each patient's medical conditions are different and can be anything from walking, driving to visiting friends, resuming work or sports.
Neurological physiotherapy intends to help improve physical impairments caused by neurological conditions, as mentioned before.
Neuro Physiotherapy in Vashi, Navi Mumbai is different from standard physiotherapy. It allows the brain to develop new synaptic connections to reconnect the brain to learn or re-learn tasks and skills.
Neuro physiotherapy can either applied in a one-on-one way as when there is an improvement in your posture.
It can also help the patient re-learn how to stand, walk, or sit if the loss is critical.
Patients can do various tasks, like walking and easy exercises in groups, which creates a friendly ambience. Thus, it makes rehabilitation more enjoyable.
Neurological physiotherapy does not end at simple passive movements or tailored exercises to build strength and coordination.
In some cases, patients may require mobility aids, such as a walking frame or a specialized wheelchair.
You should repeat exercises taught by our physiotherapist both at the clinic and at home. It helps ensure that muscle condition and motor function does not weaken. These may involve easy 'at-home exercises or frequent visits to the clinic to engage in individual or group activities.
Benefits of Neurological Physiotherapy
Neurological Physiotherapy in Vashi, Navi Mumbai focuses on promoting strength, mobility, stability and coordination.
It not only helps patients with movement-related ailments but also helps them achieve a better outlook and confidence in their conditions by enhancing their quality of life through:
Improved walking
Better balance and coordination
Increased stamina and endurance
Optimized function on affected areas
Increased strength and less stress in affected muscles
Reduced contractures
Neurological Physiotherapy Services
The neurorehabilitation programme comprises four services as per primary impairments and functional needs as given below:
· Neurocognitive Service
Brain trauma, anoxic brain damage, aneurysms and tumour with primary cognitive, behavioural, speech or eating problems and minimal physical and medical requirements.
· Neurophysical Service
Multiple sclerosis, Parkinson's disease, motor neuron disease, peripheral neuropathy, and muscle diseases with primary sensory or motor dysfunction with disability in everyday living and mobility actions.
· Stroke Service
Haemorrhagic or ischemic stroke with multiple disabilities in movement, self-care, stability, coordination, speech, swallowing, cognitive and sensory abilities.
· Spinal Cord Service
Traumatic and non-traumatic spinal cord damage, spinal tumour, transverse myelitis and associated conditions with paralysis and bladder or bowel or sexual disability.
Why choose Dr Mande's Physiotherapy Clinic for Neurological Physiotherapy?
· Our clinic has state of the art medical infrastructure for providing neuro physiotherapy in various neurological conditions.
· Dr. Kalpesh Mande, our founder, is a well-trained physiotherapist in Vashi, Navi Mumbai with 10+ years of experience.
· We offer excellent and efficient treatments that focus on the optimal performance of your body.
· We have benefited many people rehabilitate from various neurological conditions and have assisted them in resuming routine activities.
· We would be glad to schedule a comprehensive treatment to reduce your discomfort, improve mobility and recover you from injury.
Book an appointment at Dr Mande's Ayurvedic & Physiotherapy Clinic to seek the best neurological physiotherapy in Vashi, Navi Mumbai.