The aging process causes older people to lose stamina, agility, and versatility. Geriatric physiotherapy includes preventive and rehabilitation strategies to preserve and improve their quality of life.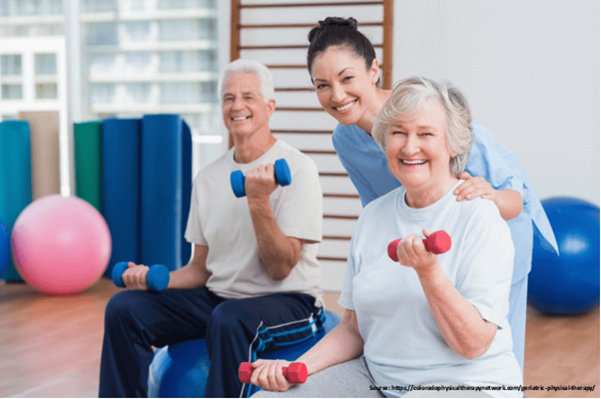 Physiotherapy for older people can help them develop their mobility, coordination, build strength, gain confidence in their physical condition, improve the range of motion of joints, strengthen and stretch their muscles.
At Dr. Mande's Ayurvedic and Physiotherapy Clinic, Dr. Nitisha Mande focuses on offering the best geriatric physiotherapy in Vashi. Moreover, Dr. Nitisha is among the best physiotherapist in Vashi, having 8+ years of experience. Dr. Nitisha Mande specializes in providing comprehensive and effective geriatric physiotherapy in Vashi, Navi Mumbai.
Through geriatric physiotherapy, Dr. Nitisha helps elderly patients achieve physical independence and healthy quality of life while treating their health problems. Hence, patients recognize Dr. Nitisha Mande as one of the leading geriatric physiotherapy doctor in Vashi.
Now, let's discuss,
What is Geriatric Physiotherapy, and How does it work?
Geriatric physiotherapy, also known as geriatric rehabilitation, is a form of physiotherapy that focuses on older people's physical issues.
Geriatric physiotherapy aids in improving physical balance, determination, confidence, and the maintenance of physical activity in the elderly.
Let's understand,
What is the Significance of Geriatric Physiotherapy?
As we get older, our bodies go through a series of degenerative changes that result in a lack of muscle strength and endurance. When individuals get older, their social and mental functioning changes, impacting their quality of life and overall well-being.
Geriatric treatment is required because it entails a series of preventive and interventive approaches to offer the care and resources needed to maintain functional independence and increase the quality of life.
What Diseases can Geriatric Physiotherapists Treat?
1) Joint Pain
Joints bind the bones in the body, bear weight, and provide strength while moving. Injuries, inflammation of the joint lining, hemarthrosis, arthritis, STDs, and gout are common causes of joint pain.
If joint pain is left untreated for an extended time, it can limit movement and cause fatigue or instability in daily activities. Geriatric physiotherapy is the most effective treatment for reducing joint pain and improving joint flexibility.
2) Generalized Weakness
One of the common problems that nearly everyone faces after a certain age is generalized fatigue. Degenerative changes that occur with age, such as weak muscle tone and swollen joints, contribute to this. It also worsens when you have other chronic illnesses like brain disorders, endocrine problems, or musculoskeletal problems.
Besides, flu, anaemia, obesity, thyroid deficiency, insomnia, undetected diabetes, congestive heart failure, and drug side effects are common causes of generalized weakness. Geriatric physiotherapy aids in the restoration of physical strength and stability, thus enhancing patients' quality of life.
3) Postural Instability
The failure to hold an erect posture is known as postural instability. In simple words, it is a lack of balance and righting reflexes to maintain a straight posture. Geriatric physiotherapy may help patients regain their natural state and improve postural dysfunction through balancing exercises.
4) Impaired Balance
The loss of proper muscle and bone structure causes a loss of balance in older people. Arthritis and orthostatic hypotension are the two major causes. Other factors that affect balance include:
Loss of sensation in feet and legs
Problems with the eyes
Problems in blood circulation
Intake of multiple medications
Geriatric physiotherapy also includes balance exercises that help improve muscle and bone strength.
Now, let's know,
What are the Advantages of Geriatric Physiotherapy?
Geriatric physiotherapy helps older people retain their physical independence and mental health. It also aids in:
Maintenance of muscle strength and stamina.
Performing their daily tasks without the assistance of others.
Strengthening and stabilizing the body for living independently.
Why choose us for Geriatric Physiotherapy in Vashi?
Established methodologies: Customized treatment schedules, internationally used care guidelines, and evidence-based approaches for a smooth recovery.
Measurement tools: Internationally recognized tools for comparing clinical results to a benchmark to ensure the desired result.
Patient-centric approach: Building a therapeutic partnership with the patient and families through constructive contact promotes patient involvement and improves outcomes.
Individualized care: We recognize that every patient is unique, as are their needs. Therefore, provide a customized treatment package tailored to the patient's specific requirements.
Book an appointment at Dr. Mande's Ayurvedic & Physiotherapy Clinic to get the best geriatric physiotherapy in Vashi.