Physiotherapist in Vashi, Navi Mumbai
Dr. Nitisha Mande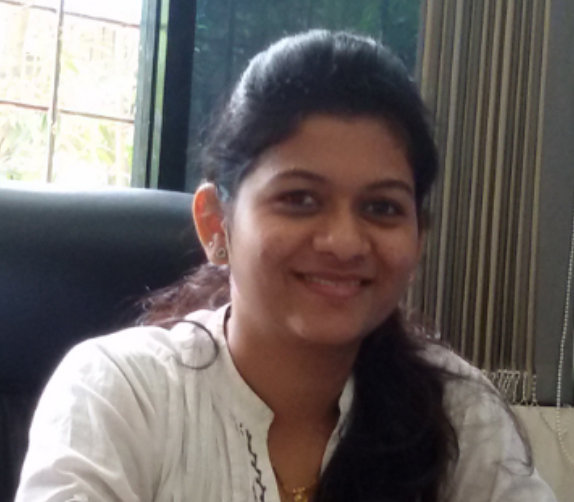 BPTh/BPT
Fellowship in Indian Association of Physiotherapist
Dr. Nitisha Mande is a practicing physiotherapist in vashi and the co-founder of the Dr. Mande's Ayurvedic & Physiotherapy Clinic in Vashi, Navi Mumbai along with her husband, Dr. Kalpesh Mande. She has been practicing physiotherapy for nearly eight years.
Across her physiotherapy practice, Dr. Nitisha has gained expertise in treated varied patients with cardiac issues, neurological issues, orthopedic issues, and children with mobility issues too. She has successfully handled post-operative physiotherapy for many of her patients.
She uses the electrotherapy approach to relieve her patients from pain along with a customized set of exercises to help them recover well and stay active. Most of her patients are extremely satisfied with her treatment and leading an active life today.
Dr. Nitisha Munde is available in Pune for consultation every Tuesday.
Benefits of Physiotherapy:
Pain Relief: Physiotherapy supports reducing pain, swelling, and inflammation.
Strength Training: Physiotherapy increase the muscles, which help in controlling pain
Posture Correction: Improving posture helps in relieving pain from the neck and back.
Increase Range of Motion of Joint: Situations like stiffened shoulder or post-fracture stiffness.
Advance Cardio: Respiratory exercise- breathing exercises, limb physiotherapy, and chest physiotherapy serves to develop cardio-respiratory function.
Increase Coordination: Physiotherapy helps improve coordination in various ailments like Parkinson's, multiple sclerosis, cerebral palsy, etc.
Maintain Activity of Daily Living: In situations like rheumatoid arthritis, spinal cord injury, and stroke. The physiotherapist assists in modifying the activities according to the condition.
Life-Rehabilitation of Stroke Victims: Enhance the quality of life-rehabilitation of stroke patients assists in enhancing their quality of life. An early meeting of stroke patients with a physiotherapist can give 100 percent results in patients.
Sports Injuries: Physiotherapy benefits in sports injuries- on the field as well as off the field. Situations like knee ligament injury, meniscal injury, rotator cuff injury, ankle sprains, and so on.
Before & After Surgery: Knee replacements, hip replacements, kidney transplants, and additional surgeries.
Rehabilitation of cancer patients like keeping their muscle power, improving lung patency, and motivating them.
Ergonomic Sessions: Office workers should visit ergonomic classes to maintain good posture. Every company should have a physiotherapist. They should arrange regular ergonomic classes.
How Physiotherapy works
Let's begin with the basics. Physiotherapy is a kind of treatment based on the subject of physiology, neuroscience, and anatomy. Its aim is easy:
Restore proper function to your body.
Help you return to your normal activities.
Decrease the chance of further injury.
In the account of other medicine branches, which tend to rely on drugs and operations to treat injuries and disorders, physiotherapy uses physical techniques such as massage, movement, and exercise. Physiotherapy can be used to manage a specific injury or be implemented to enhance the patient general well-being.
AREAS OF INTEREST & SPECIALIZATION
Dr. Mande's Ayurvedic & Physiotherapy Clinic in Vashi, Navi Mumbai offers the best Neurological Physiotherapy in Vashi, Navi Mumbai by Dr Kalpesh Mande & Dr. Nitisha Mande, an experienced physiotherapist in Vashi.
AWARDS
Matrix Rithem Therapy, 2015
Experiences
Consultant Physiotherapist

Wecare Health Clinic

2015 - 2016

Consultant Physiotherapist

New Millennium Multispeciality Hospital

2015 - 2016

Consultant Physiotherapist

Synergy Multispeciality Hospital

2014 - 2015

Consultant Physiotherapist

Addlife Peadiatric Physiotherapy Center

2013 - 2015

Consultant Physiotherapist

Pimprikar Orthopedic Physiotherapy & Rehabilitation Center

2013 - 2015

Intern

Puna Hospital

2012 - 2013
How Physiotherapy is beneficial
Physiotherapy focuses on preventing and helping the patient to recover from injuries, diseases and disabilities in various areas of the body.
Patients can approach physiotherapist in Vashi for their neck and back pain, issues in the bones, ligaments, muscles and joints due to arthritis or musculoskeletal disorders, pelvic issues, physical immobility due to trauma or multiple sclerosis or Parkinson's disease, or due to surgeries and so on.
Physiotherapy is very beneficial.
With suitable physiotherapy, patients can benefit in the following ways -
Learn how to cope up with pain and manage it.
Reduce consumption of pain killers
Experience better movement and mobility
Recover from trauma and injury
Be able to move and walk again after paralysis or stroke
Prevent falls
Maintain body balance
Avoid surgery
Learnt to cope up and manage health issues due to old age
Each patient is recommended physiotherapy treatment as per his or her medical condition. Various physiotherapy treatment options include:
Range of Motion exercises – These are set of exercises that help to improve the flexibility and movement quotient of patients with limited or restricted mobility.
Soft Tissue Mobilization or a soft tissue massage which is suggested to improve lymph and blood circulation. It also helps in reducing swelling of the tissue and relax the muscles.
Electropathy involves the use of electricity to treat painful muscles and arthritis. It is also used in combination with ultrasound therapy and laser for better outcomes.
Cryotherapy and Heat Therapy for resolving muscle tightness due to excessive sitting at the desk or by playing sports. Heat therapy involves the use of heat or hot packs to loosen the stiff muscles while use of ice pack or ice massage for relief is termed as cryotherapy.
Kinesio Taping help to stabilize muscles and the joints during a physiotherapy schedule. It assists the physiotherapist during a session to stretch and flex muscles.
Therapeutic Ultrasound helps in administering a gentle massage to the damaged tendons, fascia, ligaments, and so on. This treatment offers good results to patients who complain of muscle strain, arthritis, and tendonitis.
Frequently Asked Questions:
Who Can Benefit From Physiotherapy?
The suitable candidates for physiotherapy are:
Post-surgery patients.
People with mobility dysfunction.
Individuals with a recent injury.
Immobilized patients.
What Makes Dr. Mande's Physiotherapy Clinic A Class Apart Physiotherapy Center?
Dr. Mande's Clinic is a reputed physiotherapy clinic in Vashi, Navi Mumbai. Our physiotherapist focuses on healing the patient at the mental level for better physical recovery without medications and surgeries as far as possible. Our physiotherapist uses an electrotherapy approach to relieve the pain and a customized set of exercises to help patients recover faster and stay active.
What To Expect At The First Consultation With The Physiotherapist in Vashi?
Our physiotherapist in Vashi will examine the patient concerning the ailment and understand their condition. They will require information related to past and current medical conditions. Our physiotherapist will plan an exercise schedule to improve the mobility and functioning of the body. The program can include two or more therapies such as active exercises, passive exercises, cold compression, hot fomentation, etc.
Does Physiotherapy Hurt At First?
Physiotherapy is a painless and safe approach. However, as you'll use parts of the injured body or have chronic pain, physiotherapy can be challenging.
Does You Provide Neurological Physiotherapy?
Yes. Our physiotherapy doctor in Vashi helps the patients optimize their functionality in the current condition. They also suggest ways to modify work and home spaces for safe, efficient, and independent living. Neurological physiotherapy helps stimulate the nervous system by therapeutic movements and exercises, empowering the patient to discover new ways to move.