Older people in Navi Mumbai, Vashi, are highly affected by various joint complications due to their age. As a result, searching for a proper treatment provider becomes thair most crucial work.
Your geriatric physiotherapy doctor in Vashi provides the best geriatric physiotherapy in your own home. Your geriatric physiotherapists are experts in delivering intensive and appropriate physiotherapy care for the elderly.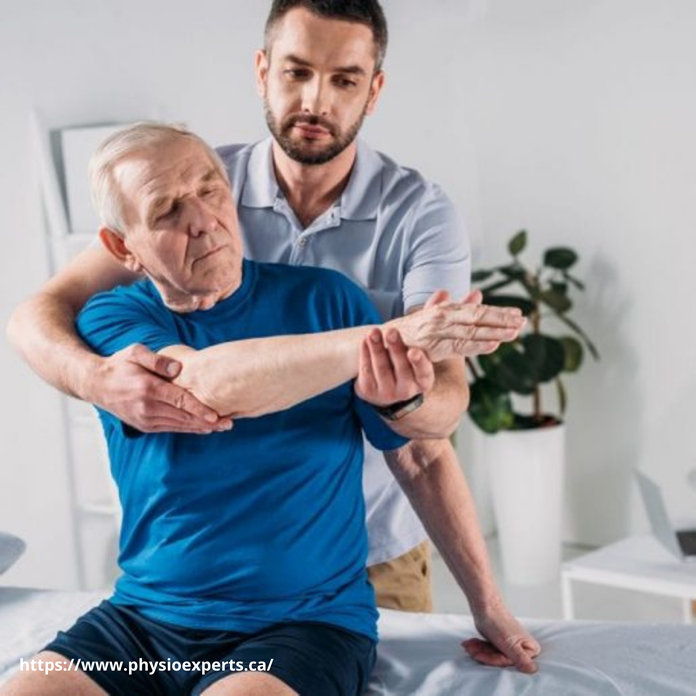 Geriatric physiotherapy addresses a wide variety of age-related health issues. Geriatric physiotherapy involves helping the elderly achieve physical freedom and healthy quality of life while treating their complications.
What is Geriatric Physiotherapy, and how does it work?
Geriatric physiotherapy, also known as geriatric recovery, focuses on treating physical complications in aged people.
It is most effective on those who are in the midst of the aging process. Geriatric physiotherapy helps in the improvement of the strength of your muscle and physical balance.
Why is it important?
As you become older, your body goes through a series of degenerative shifts that result in a lack of muscle strength and endurance. When you get older, your social and mental functioning changes. As a result, it impacts your life quality and overall well-being.
Geriatric treatment is vital because it includes a series of preventive care. It also maintains functional independence and increases the quality of life.
Now let us see when geriatric physiotherapy works well for you?
1) Joint Discomfort
Joints bind the bones in your body, carry weight, and provide strength as you move. Injuries, inflammation of the joint lining, hemarthrosis, arthritis, STDs, and gout are common causes of joint pain. If joint discomfort remains unattended for a long time, it can hamper your movement and cause instability or weakness. You will experience difficulty doing daily tasks.
Geriatric physiotherapy is by far the most effective treatment method for reducing your joint pain and improving joint flexibility.
2) Weakness
One of the fundamental problems that nearly everyone faces after a certain age is generalized weakness. Degenerative changes that occur with age, such as weak muscle tone and swollen joints, contribute to this. It worsens by the prevalence of other diseases such as neurological issues, endocrine, and musculoskeletal disorders.
Flu, thyroid complications, anemia, obesity, sleep deprivation, untreated diabetes, congestive heart failure, and drug side effects are common causes of generalized weakness. Geriatric physiotherapy helps in get rid of weakness due to these physical complications.
3) Instability of the Posture
The failure to hold an upright and straight posture is known as postural instability. Geriatric physiotherapy, such as balancing exercises, may help people recover from postural dysfunction and return to their previous condition.
4) Impaired Balance
When the normal functioning of your muscles and bones gets hamper due to age, it leads to impaired balance. Arthritis and orthostatic hypotension are the two prevalent causes of this. Balance issues can also occur due to the numbness of the feet and legs, vision problems, blood circulation problems, and several medications.
Your geriatric physiotherapist will help to practice specific balance exercises to help strengthen muscle and bone strength.
Now let us discuss the different advantages of geriatric physiotherapy.
Geriatric physiotherapy is designed to assist older people with maintaining their physical freedom and general health. It also aids in
1) enhancing and controlling the range of movement of different joints.
2) Maintaining muscle strength and stamina.
3) Carrying out their daily activities without the assistance of others.
4) Strengthening and stabilizing the body in preparation for independent living.
Dr. Kalpesh Mande is a very famous and well-experienced physiotherapist in Navi Mumbai. Along with these, he is one of the best ayurvedic doctors in Navi Mumbai as well. So, if any aged person in your family is having trouble in movement or maintaining balance, you can always visit your geriatric physiotherapy doctor in Vashi.