In the modern era, the concept of detoxifying the body has gained popularity. However, closer examination reveals that Ayurveda has been promoting the benefits of cleansing for thousands of years. The Ayurvedic concept, unlike western detoxification, is not restricted to the digestive system and body. For the body, mind, and soul to work smoothly, effectively, and without hindrance, they must all be in harmony.
When we consider digestion through an Ayurvedic lens, we can see how attaining balance through the correct meals, a balanced lifestyle, and stress-relieving activities can help us achieve excellent health.
Agni, the first word composed in the Vedas, is the Sanskrit name for this harmonious condition. Ama, on the other hand, denotes a toxin build-up. Ama is caused by emotional, mental, and spiritual imbalances as well as food difficulties. Ayurveda, fortunately, offers a treatment plan that has lasted the test of time.
Let's know,
Why should you detox the body?
Do you ever feel a little off or sluggish? You live a healthy lifestyle and eat healthy food despite being healthy? The reason for this is simple: the body is constantly influenced by your dietary habits, lifestyle, and environment.
When you put too much pressure on your essential organs, they don't function properly, making you feel sluggish. But you cannot pinpoint what is wrong with you as illness and sickness began to manifest. It may be a more specific ailment that interferes with your quality of life.
Feeling inactive has practically become the norm nowadays. The truth is that many of us have given up hope of ever feeling our best again. Still, in the early stages of illness, we can easily fix our imbalances through detox when we feel a little off or restricted somehow. Make a consultation with one of the best ayurvedic doctor in Navi Mumbai to learn more about detox benefits.
Following are some of the benefits of detoxing the body:
Ayurvedic detoxification eliminates the body's unavoidable toxins (Ama). It makes people feel more energized and healthier.
It reconnects a person with themselves and makes them aware of how diet impacts their health.
It boosts energy levels in the body by clearing all of the body's pathways, resulting in a burst of energy.
Food cravings are controlled by detox because selecting appropriate food choices throughout a detox program emphasizes food and reduces cravings and addiction.
It promotes blood circulation and gives organs much-needed rest. Besides, it causes the liver and kidneys to push toxins out of the body.
During detox, nutrient-dense foods help to balance nutrient shortage in the body, allowing vitamins, minerals, and other micronutrients to be stored. So, the body functions more efficiently.
Now, let's know more about,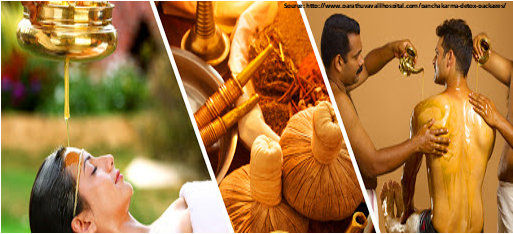 Ayurvedic Detoxification
Ayurveda is a popular treatment for body detoxification. The Ayurvedic treatment cleanses and eliminates toxins (ama) from the body. So, it helps in resetting the organs and systems. Besides, Ayurveda gently aids the body in resolving hormonal and mental imbalances. So, it helps boost energy and promote vitality. Ayurveda divides the world into five elements: Prithvi (earth), Water (Jal), Vayu (air), Teja (fire), and Akash (space).
Three forms of humour, known as doshas, are thought to be formed by diverse combinations of these five elements. The dosha is in charge of a variety of physiological activities in the human body. Vata, Kapha, and Pitta are the three doshas.
An individual's health is dependent on maintaining a balance between the three doshas and the five elements. The sickness is more prone to occur if the doshas and five components are out of harmony.
Body detox, according to Ayurveda, is an essential aspect in regaining health balance. Therefore, detox is recommended, keeping in mind that each individual has a unique balance of doshas based on personality factors and genetics connected to diverse health consequences.
One of the best ayurvedic doctor in Navi Mumbai can help you determine your dosha type. They will also explain about their customized ayurvedic detoxification in Vashi. To know more about your dosha and body type, you can visit a renowned ayurvedic clinic in Vashi.
Since each person's doshas are unique, no two ayurvedic detoxes are alike. Yet, it does cleanse the body of pollutants and toxins. Ayurveda recommends making broader lifestyle and nutritional changes in addition to detoxing to obtain a balanced dosha.
Let's discuss,
The Steps Involved in Ayurvedic Detoxification in Vashi
Panchakarma:
It is an ayurvedic procedure for cleaning the body of all toxins. Panchakarma is a Sanskrit word that combines the words "Panch" and "Karma." Karma means "process," and Panch means "five." It is a one-of-a-kind treatment that comprises preventive, therapeutic, and prophylactic measures for various disorders.
Panchakarma helps preserve a balance between the mind, body, and soul and eradicate toxins from the body. Vamana (Emesis), Virechana (Purgation), Nasyam (Nasal Installation), Raktamokshana (Blood Purification), and Basti (Enema) are the five Panchakarma procedures.
Dietary modification:
Each dosha necessitates a special diet. Individuals should avoid foods that are thought to cause toxin build-up in the body based on their bodily constitution.
Water is the primary beverage recommended by Ayurveda during detox. It suggests a mono-diet, which should be followed every day to rebalance the dosha.
Massage:
An ayurvedic massage helps eliminate toxins from the body during detox by moving impurities towards the digestive system. Moreover, it slows down the aging process, drains the lymphatic system, and enhances the skin and hair condition.
Yoga and meditation:
An Ayurvedic cleanse should include daily yoga and meditation sessions. Yoga and meditation, and various breathing practices can assist a person in disconnecting from everyday distractions, reducing stress and anxiety, and increasing creativity and self-awareness.
Ayurveda is the most effective approach for giving you a sense of total wholeness and healing. It also helps you rediscover yourself. Moreover, detox programs can help you break free from a toxic lifestyle and enter a realm of self-reconnection and relaxation.