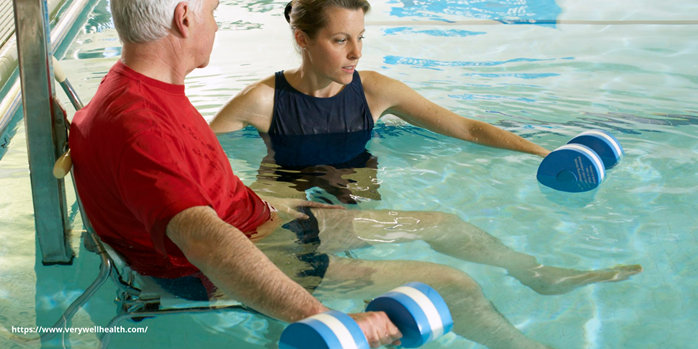 Aquatic physiotherapy, an effective physiotherapy technique, can improve the functions of your body and mind.
People in Mumbai and the surrounding area are interested in this treatment. They come to Dr. Mande's clinic to know about the procedure and how it can benefit them.
Dr. Mande is one of the best ayurvedic doctors in Vashi, navi Mumbai. He has experience in both physiotherapies as well as ayurvedic medicines.
This article will discuss various aspects of aquatic physiotherapy in detail.
What is aquatic physiotherapy?
Hydrotherapy is also known as aquatic physiotherapy. It is performed in warm water to maximize an individual's physical, physiological, or psychological function.
The water temperature in the pool of Hydrotherapy is around 34-35.5 degrees, which allows your muscles to relax and relieve joint discomfort.
The water buoyancy of the Hydrotherapy pool relieves the body's weight, relieving joint tension and allowing more mobility.
The following are some of the most common aims of water therapy programs:
Improving coordination and balance
Increasing your aerobic capacity
Helping with movement and gait
Relieving stress and encouraging relaxation
As aquatic therapy is a physical therapy and rehabilitation technique, it requires the involvement of a trained professional. It is very much different from any water-based exercise or fitness program.
Adaptive aquatics should not be confused with aquatic therapy. The technique of teaching disabled persons how to swim safely in the water is known as adaptive aquatics. The goal of aquatic therapy is not to teach individuals how to swim.
Hospitals, sports medicine clinics, and regular outpatient rehabilitation facilities all provide water therapy services. Dr. Kalpesh Mande, the aquatic physiotherapy doctor in Vashi, Navi Mumbai, provides one of the best treatments to his clients. So, book your appointment today with us.
Neurological conditions and aquatic physiotherapy
Aquatic physiotherapy and water immersion provide a tremendous sense of accomplishment and freedom. Many patients of Dr. Mande have reported various advantages of the treatment. Many of the patients could do things in the pool that they cannot do on dry ground.
Exercise in the water, as opposed to land-based physiotherapy, reduces anxiety and the fear of falling by providing postural support. The limbs are typically able to relax and become more flexible as a result of this.
So, what are the advantages of aquatic physiotherapy?
The following are some of the advantages:
Pain relief
Muscle spasm relief
Improving the strength of weak muscles
Better blood circulation
improve in balance and posture
Restore muscular tone to a healthy level
Boosting self-confidence
Proper relaxation
Work on practical activities more quickly than on land
Other than these, you will experience physiological consequences like enhanced cardiovascular fitness, improved respiratory function, reduced edema, and improved renal function, etc.
When does aquatic physiotherapy not work effectively?
Before starting the treatment, your Physiotherapist will ask you few questions while performing your examination. Your Physiotherapist will prescribe you not to avail of aquatic physiotherapy in certain situations.
These are some of them:
Infected wounds left open.
Vomiting, stomach pains, and loose motion
Blood pressure that is too high or too low
Breathing shortness
Renal failure in its latter stages
Observation and assessment
If you are new to Dr. Kalpesh Mande's physiotherapy clinic, you will face a land-based evaluation to discuss your specific needs and organize your pool session. You will also have to fill out a screening form.
If you need to take any special precautions, your Physiotherapist will also tell you about the same.
How long does the treatment need to continue?
Following your initial evaluation, subsequent sessions will take 30-45 minutes. It includes entering and exiting the pool. The therapy will be done one-on-one with your therapist, allowing your treatment to be closely monitored and progressed as needed. Now that you have known about the treatment, if you want to book an appointment, contact your doctor.