Marma therapy is an integral component of Ayurveda that aids in maintaining health by removing blocked energy. Marma therapy includes whole-body massage using essential oils, light energy, crystal, and gems to gently stimulate various energy points all over the body to recover energy and relax physically and mentally.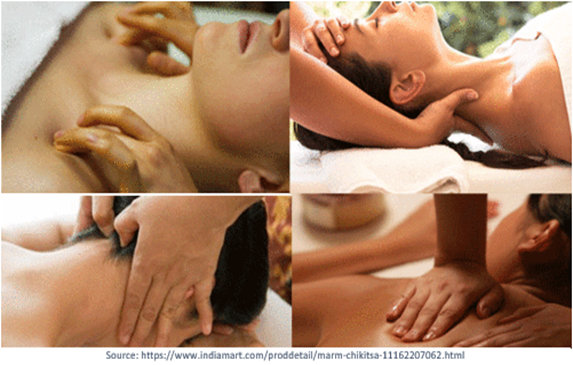 Marma therapy involves the use of constructive mantras and meditation to remove any blockages. It is a powerful way to communicate with your inner self while still nourishing and healing your physical body.
Marma therapy helps to go deep into yourself to transform and combine appropriate patterns, emotions, and all forms of well-being. To receive marma therapy, you should visit an experienced and skilled ayurvedic doctor in Vashi for more effective results.
Now, as you know what Marma therapy is, let's understand how beneficial it is.
8 Benefits of Marma Therapy
1. Improves Circulation: Marma therapy stimulates blood circulation at first, which aids in direct recovery. It helps improves the blood flow in injured body areas and ultimately promotes healing. Increased blood flow can remove the waste by-products caused by the body's inflammation response when the injury occurs.
2. Increases Range of Motion and Relieve pain: Marma therapy can improve the range of motion of the joints by acting directly on the soft tissues like muscle, tendon, connective tissues, etc. It also helps reduce pain by relaxing the nervous system and releasing stress in soft tissues.
3. Improves muscle and nerve functions: As blood circulation increases, all fluids circulating like lymph, cerebrospinal fluid, and other energies also improve. When the nervous system's chemical and electrical impulses that regulate features of the mind and body are less or non-obstructed, the overall function of all body systems improves as well.
4. Alleviates physical and mental stress: Physical and mental stress is known to be the precursor to most diseases. Marma therapy leads to the relaxation of the nervous system and soft tissues of the body, resulting in reduced physical and mental stress.
5. Boosts immune system: As mentioned, with increased circulation through the removal of obstructions such as tension, injury, or disease, the entire system's functioning will improve. The immune system is the body's built-in self-defence. When the immune system operates at a high level, an individual's ability to fend off disease and heal itself is dramatically raised.
6. Strengthens tissues and organ systems: Intense massage often returns organs and tissues to their natural positions, which may have moved due to trauma or inaccurate body positioning. It will also reinstate the organs and tissues to their relaxed and active state.
7. Eliminates toxins: Marma therapy helps in the removal of toxins through the increased performance of the circulatory and immune systems.
8. Improves sleep: Marma therapy promotes more relaxing sleep. Each of the mentioned benefits will improve an individual's ability to relax, release stress and increase the chances of deep sleep when much of the body's healing occurs.If you consider marma therapy, schedule an appointment with one of the best ayurvedic doctor in Navi Mumbai to gain the expected results.